This task is dealing with evaluation of suitability of CLMS and enhanced LCLU available in the form of web application, for environmental monitoring, biodiversity mapping and monitoring, how the CLMS data can be integrated with existing national monitoring activities.
Coordinated by the Norwegian Institute of Bioeconomy Research (NIBIO).
Specific Tasks:
Task 5.1. HRL Water and wetness (HRL-WAW)
Task 5.2: Vegetation along streams and waterways
Task 5.3: High nature value grassland
Task 5.4: Preparation of landscape audits
In Task 5.1 we examined the potential of Copernicus High Resolution Layer Water and Wetness (HRL-WAW) for delineating wetlands, and monitoring status and change of wetland ecosystems in Poland and Norway. 
We have finalised the first deliverable: Report containing information on the potential, accuracy (thematic and geometric) of Copernicus HRL-WAW for assessment of agricultural landscapes and Ecological Focus Areas.
The results of the analyses were presented at IALE 2022 – European Landscape Ecology Congress in the form of a presentation "Quality control of Copernicus High Resolution Layers for monitoring agricultural landscapes and wetlands".

Poland – Lake shoreline (a) WAW four classes, (b) result of the comparison of WAW and BDOT-PTWP, and (c, d) BDOT-PTWP overlay on the aerial orthophoto and Sentinel-2, respectively.
In Task 5.2, we focused on the analysis of vegetation along streams and watercourses, as these are important for biodiversity. The work carried out mainly involved the Copernicus product from the local component – Riparian Zones as well as Riparian Zones Changes. A high resolution layers from Copernicus – HRL Small Woody Features. The results from Poland and Norway were compared to describe and understand the content of the dataset and its suitability for environmental monitoring.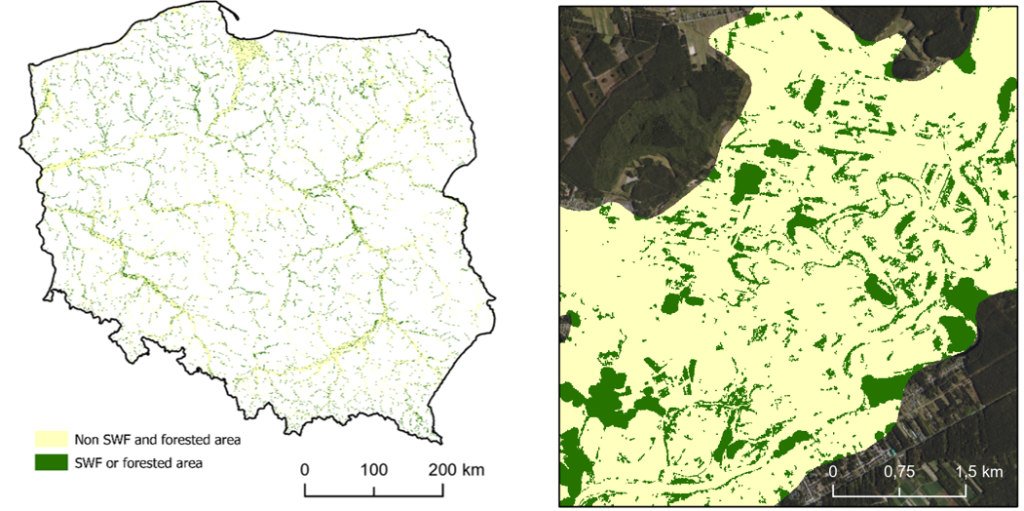 Visualisation of merged Small Woody Features and Forest Mask data clipped to Riparian Zones boundaries in Poland
Ongoing activities:
In the next task, the focus will be on grassland used for mowing and harvesting hay are rich with respect to species composition and therefore considered of high botanical value. These ecosystems are also threatened due to changes in agriculture. A constant problem mis that it is difficult to make an inventory of these areas. To determinate the occurrence of this type of nature, we will examine the Copernicus products like HRL Grassland and Urban Atlas.